Tell me more! Tell me more!
GREASE
at the Ivoryton Playhouse
Ivoryton – Dust off your leather jackets, pull on your bobby-socks and take a trip to a simpler time as Danny and Sandy fall in love all over again at the Ivoryton Playhouse. Opening on July 5th and running through July 29th, GREASE, BY Jim Jacobs and Warren Casey,  features all the unforgettable songs from the hit movie including "You're The One That I Want", "Grease Is The Word", "Summer Nights", "Hopelessly Devoted To You", "Greased Lightnin'" and many more.
Here is Rydell High's senior class of 1959: duck-tailed, hot-rodding "Burger Palace Boys" and their gum-snapping, hip-shaking "Pink Ladies" in bobby sox and pedal pushers, evoking the look and sound of the 1950s in this rollicking musical. Head "greaser" Danny Zuko and new (good) girl Sandy Dumbrowski try to relive the high romance of their "Summer Nights" as the rest of the gang sings and dances its way through such songs as "Greased Lightnin'," "It's Raining on Prom Night," "Alone at the Drive-In Movie" recalling the music of Buddy Holly, Little Richard, and Elvis Presley that became the soundtrack of a generation.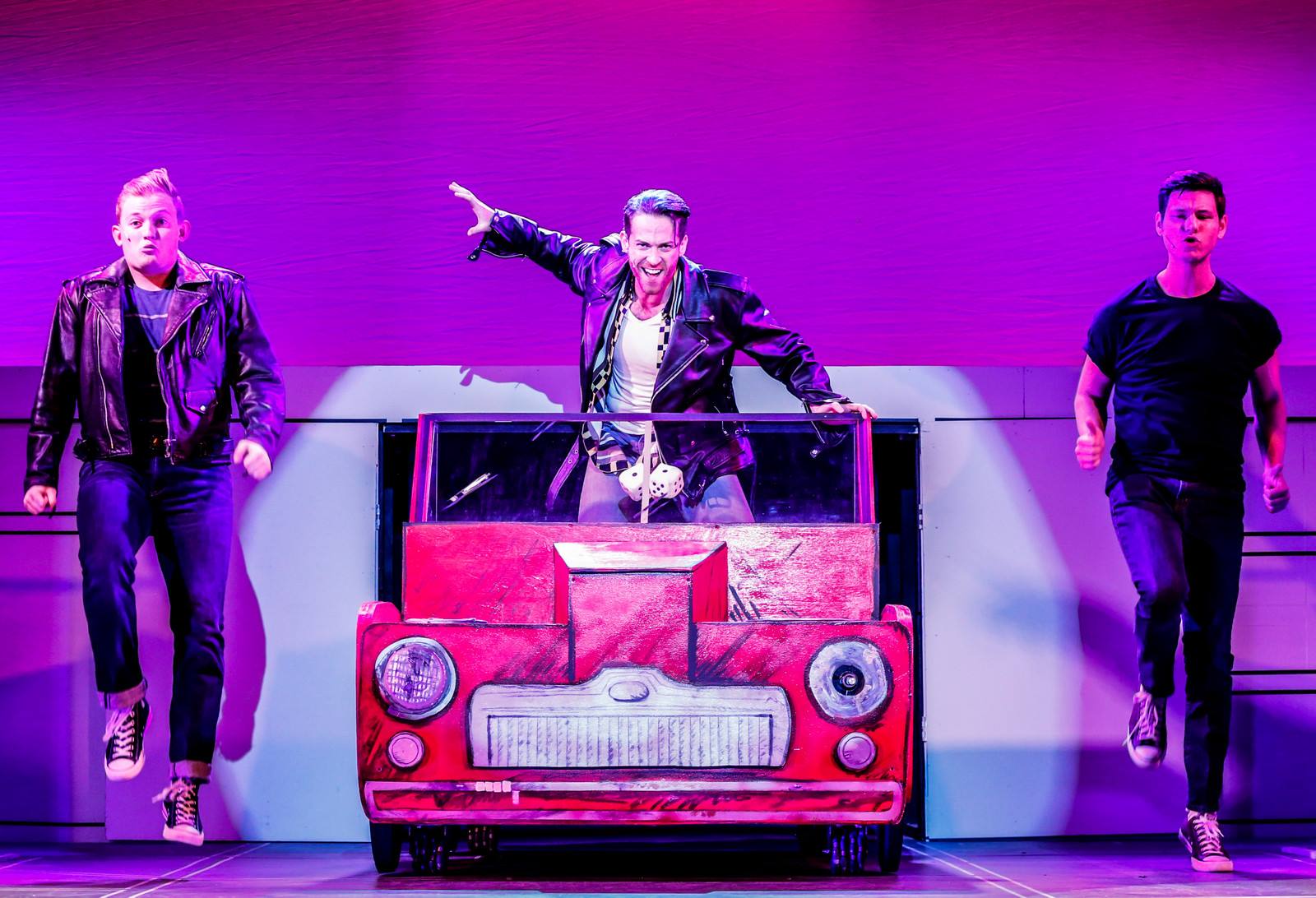 GREASE opened Off-Broadway at the Eden Theatre on February 14, 1972 but was deemed eligible for the 1972 Tony Awards, and received seven Tony Award nominations The 1994 revival also garnered Tony nominations and the show went on to a successful national tour, featuring our own Micky Dolenz as Vince Fontaine.
The movie that we all know and love opened 40 years ago and it is a testament to the music and the iconic characters that GREASE is still the word today. The best part of this quintessentially American high school story (aside from the music, of course) is what Danny, Sandy, Rizzo, Kenickie, Frenchy and the rest of the Rydell High gang taught us – that the people who really care about you will stay by your side no matter how different you are from one another, and support you just the same whether you're a pom-pom-wielding goody-two-shoes, a leather-touting T-Bird or a starry-eyed, pink-haired aspiring beautician who drops out of school months before graduation.
So throw your mittens around your kittens and hand jive the night away with the show that'll make you want to stand up and shout, 'A-wop-bop-a-loo-bop, a-wop-bam-boom!
This production stars Johnny Newcomb* as Danny Zuko and Kimberley Immanuel* as Sandy. Johnny made his Broadway debut in THE LAST SHIP and was part of the national tour of AMERICAN IDIOT. He was last seen in Ivoryton as Roger in RENT. This season's audience may remember Kimberley for her luminous performance as Luisa in THE FANTASTICKS. Other cast members that may be familiar to Ivoryton audiences are Alyssa V. Gomez* (Rizzo), Amy Buckley (Miss Lynch), Cory Candelet (Eugene), Jonny Cortes (Johnny Casino), Taylor Lloyd (Marty), Alexa Racioppi (Patty Simcox) Max Weinstein (Sonny) and Amanda Lupacchino, Andee Buccheri, and Nathan Russo. Making their Ivoryton debut are Katelyn Bowman (Frenchy) Lawrence Cummings* (Vince Fontaine/Teen Angel), Luke Linsteadt* (Doody), Taylor Morrow (Roger), Natale Pirrotta* (Kenickie), Shalani Taylor (Cha-Cha), Audrey Wilson (Jan), Jamaal Fields-Green, Jared Starkey and Clementine Wurzbach
The production is directed and choreographed by Todd L. Underwood and musical directed by Michael Morris, with set design by Daniel Nischan, lighting design by Marcus Abbott and costume design by Elizabeth Saylor Cippolina.
GREASE opens at the Ivoryton Playhouse on July 5 and runs through July 29, 2018. Performance times are Wednesday and Sunday matinees at 2pm. Evening performances are Wednesday and Thursday at 7:30pm, Friday and Saturday at 8pm.
Additional matinee performances are on Saturday, July 7, 14 and 28 at 2pm.
Tickets are $55 for adults; $50 for seniors; $25 for students and $20 for children and are available by calling the Playhouse box office at 860-767-7318 or by visiting our website at www.ivorytonplayhouse.org
(Group rates are available by calling the box office for information.) The Playhouse is located at 103 Main Street in Ivoryton.
Members of the press are welcome at any performance after July 5, 2018
*denotes member of Actors Equity
Photos by Jonathan Steele