The Ivoryton Playhouse is thrilled to announce details of its Fourth Annual Women Playwrights Initiative – 4 x 4 in 2020. Over 170 plays from all over the country were submitted to the initiative and the four finalists will be traveling to Ivoryton from Washington State, California, Indiana and Maryland to have their work presented in a series of staged reading on Saturday, February 22, 2020.
The Initiative includes the Ellie Award and a stipend for each of the four women playwrights chosen and provides a safe, nurturing environment for the development of new, one-act plays with a director and actors. The plays are by and about women and the issues that shape their lives, and the workshop culminates in a festival of staged readings.
To purchase tickets for the Women Playwrights Festival please call 860.767.7318 or go to www.ivorytonplayhouse.org
Tickets:  $20 adult; $15 senior; $10 student for one performance.  Buy tickets for both performances for $30.00 adult; $25 senior; $10 student – call box office 860.767.7318 to book 2-performance package.
Check back here for information on additional workshops, events and special festival deals with local restaurants.
The Ivoryton Playhouse is located at 103 Main Street, Ivoryton, CT  06442.
ABOUT THE PLAYWRIGHTS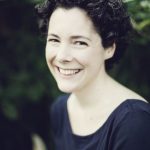 Holly Arsenault is a Montreal-born, Seattle-based playwright. Her debut full-length play, Undo, was the recipient of the 2013 Theatre Puget Sound Gregory Award for Outstanding New Play. Her work has been developed and produced at Seattle Rep, Annex Theatre, Live Girls! Theater, The National Winter Playwriting Retreat, Mirror Stage, and Seattle Children's Theatre. Her play The Great Inconvenience will be read at Sacred Fools Theatre in Los Angeles in March, 2020.
To be performed at 7pm: Court
Marle and Rosanna are not best friends. Actually, they barely know each other. But, over the course of one evening in Rosanna's attic bedroom, they'll forge a bond in the flame of Rosanna's very big problem: going to court to testify in her own custody hearing. This is a story about two very ordinary, weird girls just dealing with how incredibly ordinary and weird it is to be thirteen.  Directed by Jacqueline Hubbard.
Sharon Goldner
is this chick who perpetuates the notion that crazy is just a frame of mind. Her writing goal is to make audiences laugh at things they feel guilty for laughing at because she thinks humor helps break down barriers, enabling honest discussion. Sharon's award-winning plays have been performed in theaters across the USA from Off Broadway to Los Angeles and in-between, plus Toronto. Sharon is a member of The Dramatists Guild. Additionally, her award-winning short stories have been published in literary journals all over the U.S.A, and in England, and she is a two-time Pushcart Prize nominee. Sharon assures audiences that no letters of the alphabet have ever been harmed in the creation of her work.
To be performed at 2pm:  Savior
What do you do when your five year old tells you he is the messiah?  Marlene confides this in her best friend, LuLu, seeking advice, comfort, and answers. A best friend was never more put to the test. A five year old was never more … out of this world.  Directed by Kate Katcher.
Dagney Kerr is a Los Angeles-based actress and writer. She's guest-starred and recurred on TV shows, appeared in national commercials, and performed on LA stages from the Hudson Theatre to the Geffen Playhouse.  Her plays have been featured in many national playwriting festivals and competitions, winning Best Original Script, Audience Favorite, and Excellence in Playwriting Awards.  Her short film, Dalton, recently premiered at the Los Angeles International Film Festival and her play, Swindled Heart, was recently published in a collection of noir inspired works.
To be performed at 7pm:  Deanna and Paul
Deanna's a quirky waitress with a strict no tipping policy. Paul's a surly customer with a tight lid on his heart. Their lonely worlds collide one day in a small-town diner, where one cup of coffee can change everything.  Directed by Missy Burmeister.
Crystal V Rhodes has served as Playwright-in-Residence for the Connor Prairie Interactive History Park. She is the recipient of The Black Theatre Alliance Award for her comedy, Stoops.  Her play The Diary of Annie Mae Franklin won the American Stage 21st Century Voices New Play Festival.  Rhodes was recently the recipient of the 2020 Creative Artist Renewal Fellowship awarded by the Indiana Arts Council.  www.crystalrhodes.com
To be performed at 2pm: 1200 miles to Jerome
During World War II, a mother, her two daughters, a young school teacher and a fourteen year old Japanese American fugitive from a "Relocation Camp" are forced to flee the town of Jerome, Arkansas headed to New York City.  The journey is over 1200 miles of roads where African Americans aren't allowed to sleep in most hotels, eat in most restaurants, use restroom facilities or purchase gas at many stations.  It is a trip filled with danger, one that could prove to mean the difference between life and death.  Directed by Kathryn Markey.