The reviews are in! THE LEGEND OF GEORGIA McBRIDE is a hit! Read these and then get your tickets!
https://jimruoccodesktake2.blogspot.com/2023/04/from-desk-of-jim-r-take-2-column-388.html?spref=tw
https://www.talkinbroadway.com/page/regional/ct/ct1004.html
The Legend of Georgia McBride
By Matthew Lopez
THE LEGEND OF GEORGIA MCBRIDE by Matthew Lopez is now open in Ivoryton through April 30th, 2023.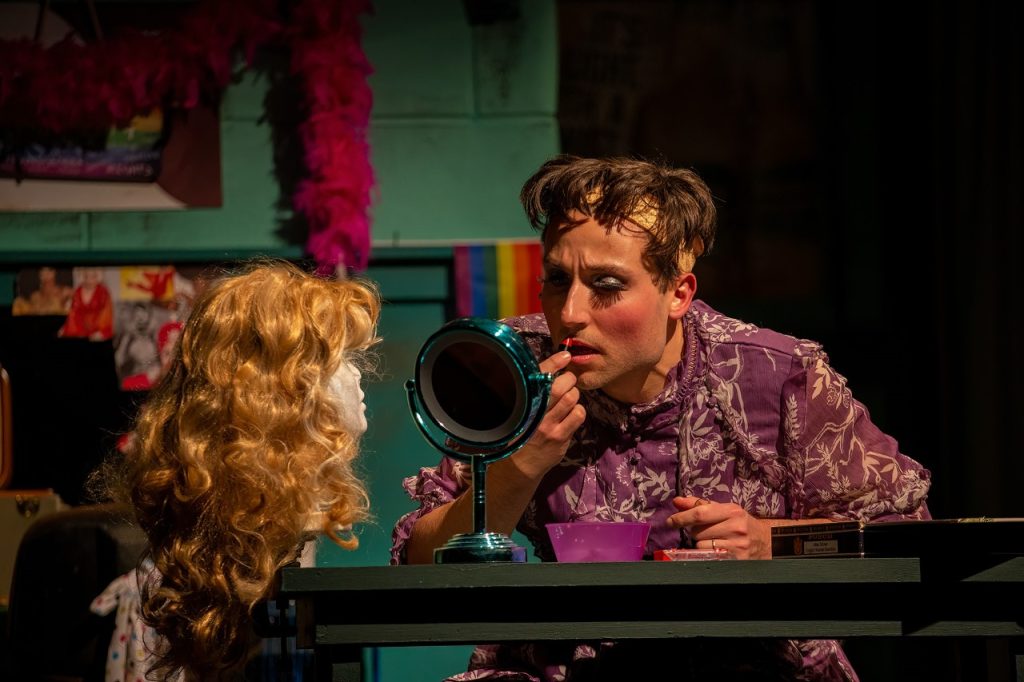 The play tells the story of Casey, an Elvis impersonator with everything going for him, including a sexy smile and a flashy sequined jumpsuit. But, one morning, he wakes up to find that he has lost his gig, his rent is overdue, and his wife announces a baby is on the way. So, when Elvis leaves the building and a drag show moves in, "The King" dumps his blue suede shoes for six-inch heels and transforms into an all-out queen with the help of new friends who become the second family Casey never saw coming. With snappy zingers and dance-worthy numbers, this wildly entertaining story will challenge your assumptions with extraordinary humor and depth.
The play swings back and forward between zany comedy and show-stopping dance numbers, with Charles Isherwood of The New York Times commenting that the play was "full of sass and good spirits – along with a spritz or two of sentimentality." In February 2018, New Regency announced it was developing the play's film adaptation in association with Jim Parsons' production company.
You won't want to miss this heartwarming comedy that, behind the laughter, shares a message of acceptance and family.
Playhouse Associate Artistic Director, Todd Underwood, directs this big-hearted, fun-filled evening. In describing the process, Mr. Underwood says, 'It's a special piece, and we are excited for everyone to see it.'
The cast includes familiar faces and brand-new talent on the Ivoryton Stage. Mike Boland*, Sam Given* and Rae Janeil are Ivoryton favorites, and we are thrilled to have them back with us. Welcome to Clint Hromsco and Timiki Salinas* as they make their Ivoryton debut.
The scenic design is by Martin Marchitto, lighting and sound design by Alan Piotrowicz, costume design by Angela Carstensen and wig design by Elizabeth Saylor.
THE LEGEND OF GEORGIA MCBRIDE runs through Sunday, April 30th, 2023. Performance times are Wednesday and Sunday matinees at 2:00 pm; evening performances are Wednesday and Thursday at 7:30 pm, and Friday and Saturday at 8:00 pm.
Tickets are $55 adults, $50 seniors, $25 students. Tickets available online at ivorytonplayhouse.org or the box office at 860.767.7318. 2023 season info visit ivorytonplayhouse.org.
Ivoryton Playhouse is located at 103 Main Street in Ivoryton.