In stock and available now! 
Meet Ella Capella, a special elephant who sings and dances and entertains the whole village of Ivoryton until one day a terrible storm threatens to sweep her away.
Who will save Ella and and will she ever find a forever home?
by Jacqueline Hubbard with pictures by
Cully Long
Ideal gift! Price:  $21.99 + tax
To purchase this book via the Ivoryton Playhouse website (offering free pick up from Centerbrook), please follow this link.
To purchase this book via Lulu, please follow this link.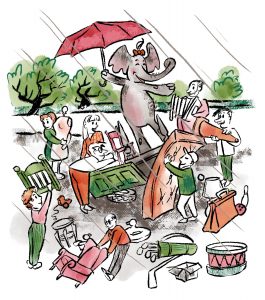 Books will also be available at select retail locations.  If you'd like to sell Ella Capella and the Pink Umbrella at your shop, please call 860.767.9520 and we can help you.
This book is dedicated to our family of supporters who came together in 2020 and built the boat, made the sandwiches and held the umbrella to keep us safe.
You are truly the stars of our stage.