The last of our Summer Children's Theatre performances are this Friday – for children of all ages!
The Ivoryton Playhouse brings you another summer full of fun and educational programs all geared towards children! The Playhouse is proud to present some new and exciting live performances featuring some of Connecticut 's most popular, professional artists. Performances are for children of all ages. Help your child discover the magic of theatre this summer at The Ivoryton Playhouse.
All tickets $14.00.
For more information, please call 860.767.7318. To purchase tickets on line, please follow this link.
August 23rd
Paper Heart Puppets presents:
11:00am – * NEW * I LOVE TACOS!
There is joy in the world, and it comes wrapped in a tortilla!
Join White Nosed Coati and a cast of amazing Mexican wildlife in three original stories celebrating tacos and the place they were created. Each story is packed with exuberant humor, and colorful characters. So get ready for magical Qeutzal birds, taco monsters and the mystery of the volcano rabbit and his ultimate salsa!

2:00pm CARDBOARD EXPLOSION!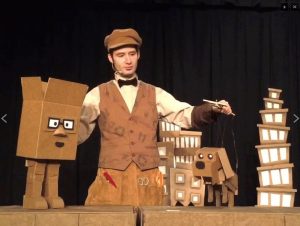 With a simple snip of the scissors, adventures unfold for a one-of-a-kind puppetry experience! "Cardboard Explosion'" brings five original stories to life using nothing but cardboard and the power of your imagination. In each story audience members help puppeteer, Brad Shur, transform simple cardboard shapes into elaborate puppet characters right before your eyes.
Get ready to outsmart dragons, choose-your-own superpower, and train adorable animal sidekicks in this fun, energetic, participatory show. Recommended for ages 4 and up
TWO SHOW SPECIAL: buy tickets for both Paper Heart Puppet shows for $25. Bring your lunch to have on our patio between shows and enjoy complimentary lemonade.  Coloring activity and hand puppets to play with as well.  Join us!