Check out our great video clip for Million Dollar Quartet!!
 ================================================================
Press Release
May 11th, 2017
Whole Lotta Shakin' Goin' On!
MILLION DOLLAR QUARTET
at the Ivoryton Playhouse
Ivoryton – What would happen if rock-n'-roll legends Elvis Presley, Jerry Lee Lewis, Carl Perkins, and Johnny Cash all got together for one night only to give one of the most epic jam sessions the world has ever known? That's what happens in MILLION DOLLAR QUARTET, the Tony-winning musical that brings to life this legendary session that occurred on December 4, 1956 at Sun Records Studio in Memphis, Tennessee. Sam Phillips, the "Father of Rock 'n' Roll" who was responsible for launching the careers of each icon, brought the four legendary musicians together at the Sun Records studio in Memphis for the first and only time. The resulting evening became known as one of the greatest rock 'n' roll jam sessions in history.
The jam session consisted largely of snippets of gospel songs that the four artists had all grown up singing. The recordings show Elvis, the most nationally and internationally famous of the four at the time, to be the focal point of what was a casual, spur-of-the-moment gathering of four artists who would each go on to contribute greatly to the seismic shift in popular music in the late 1950s.
During the session, Phillips called a local newspaper, the Memphis Press-Scimitar and the following day, an article about the session appeared in the Press-Scimitar under the headline "Million Dollar Quartet".
The jukebox MILLION DOLLAR QUARTET written by Floyd Mutrux and Colin Escott,
brings that legendary night to life with an irresistible tale of broken promises, secrets, betrayal and celebrations featuring an eclectic score of rock, gospel, R&B and country hits including; "Blue Suede Shoes," "Fever," "Sixteen Tons," "Who Do You Love?," "Great Balls of Fire," "Matchbox," "Folsom Prison Blues," "Whole Lotta Shakin' Goin' On," "Hound Dog," and more.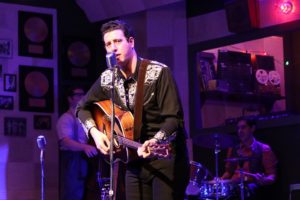 The Broadway production premiered at the Nederlander Theatre on April 11, 2010, with a cast featuring Eddie Clendening as Elvis Presley, Lance Guest as Johnny Cash, Levi Kreis as Jerry Lee Lewis, Robert Britton Lyons as Carl Perkins and Hunter Foster as Sam Phillips.  The musical transferred to New World Stages in July 2011 and closed on June 24, 2012. A US national tour and International productions followed.
The musical was nominated for three 2010 Tony Awards including Best Musical and Best Book of a Musical. Levi Kreis won the award for Best Featured Actor for his portrayal of Jerry Lee Lewis.
This production is directed by Sherry Lutken, who was last here in 2015 with STAND BY YOUR MAN: THE TAMMY WYNNETTE STORY; Eric Anthony is Musical Director; Set Design is by Martin Scott Marchitto and Lighting by Marcus Abbott. Costume Design is by Rebecca Welles
Our production stars: Luke Darnell* as Carl Perkins, Joe Callahan* as Jerry Lee Lewis, Jeremy Sevelovitz* as Johnny Cash, John Rochette* as Elvis Presley, Ben Hope* as Sam Phillips, Jamie Pittle as Fluke, Emily Mattheson as Dyanne and Kroy Presley as Jay Perkins.
Don't miss the experience of this show live on stage at the Ivoryton Playhouse.
MILLION DOLLAR QUARTET opens at the Ivoryton Playhouse on May 31st and runs through June 25th, 2017. Performance times are Wednesday and Sunday matinees at 2pm. Evening performances are Wednesday and Thursday at 7:30pm, Friday and Saturday at 8pm.
Tickets are $50 for adults; $45 for seniors; $22 for students and $17 for children and are available by calling the Playhouse box office at 860-767-7318 or by visiting our website at www.ivorytonplayhouse.org
(Group rates are available by calling the box office for information.) The Playhouse is located at 103 Main Street in Ivoryton.
*denotes member of Actors Equity
Members of the press are welcome at any performance.  Please call ahead for tickets.